Resolution against the shutdown of underground mining in the entire world
Details

Created: Friday, 15 June 2018 15:58
Hits: 1241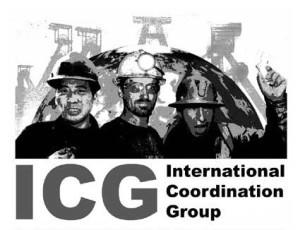 At the meeting of the ICG of the International Coordination of Miners we heard about the extensive shutdowns of underground mining.
We call upon the miners of the world to fight against mine shutdowns!
In Europe, for example, all underground hard-coal mines are to be closed, while the corporations are dividing up the claims for the highly-toxic fracking method in all of Europe. And so, the last reserves on European ground are being opened for the exploitation through the international corporations.
The EU corporations are laying claim on the access to resources worldwide. In India 374 underground mines are to be closed by 2019. Instead even more coal is to be extracted with fewer opencast mines and fewer miners. In Peru, too, more and more underground mines are to be shut down and are being replaced e.g. by opencast mines or mountain top mining. The capitalist policies on natural resources are intensifying the danger of war and advancing the threatening global environmental catastrophe, if the international working class does not put an end to this in alliance with all oppressed.
Let us make the shutdown of underground mining in the world to a focal point of the international miners movement. Let us develop worldwide cooperation and let us organize joint protests on certain days. Let us organize worldwide solidarity actions!
International Miners Coordination (ICG)
in May 2018