Freedom for all imprisoned Maruti-Suzuki-Workers! International Days of Solidarity and Protest 4th/5th April!
Details

Published: Wednesday, 30 November -0001 01:00
Hits: 1045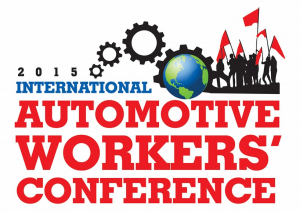 Since years the struggle of the Automobile Workers of Maruti-Suzuki in Manesar/Indien is a symbol of successfull fight for organizing of unions and the unity of permanent and contract workers. A broad solidarity movement of the workers and the masses in Gurgaon is opposing the scandalous and long term detainment of 148 strike leaders. Over years, again and again, there were mass rallies and strikes against the imprisonment and class justice serving Maruti Suzuki Company. The verdict of March 18, 2017, with life sentences for 13 strike activists and leaders of the Maruti Suzuki Workers Union plus other workers with long year sentences is intended to break this resoluteness. Hundreds of families is stolen their living.
"The MSWU body members have been targeted because they have been the leadership of the struggle since 2011 against illegal contract worker system and for Trade Union rights and dignity of labour. It is a 'class attack' as in the words of Maruti CEO RC Bhargava. All workers know that this manifestly unjust verdict is to 'teach a lesson' to us by those in power that we should not fight for our rights and dignity on the shop-floor and beyond. ... We appeal to all workers and pro-worker forces to observe 4th/5th April 2017 as all-India and International Days of Protest and show solidarity in whatever ways possible. The struggling workers in the Gurgaon-Manesar-Bawal-Neemrana industrial belt in the states of Haryana-Rajasthan are showing that they will not relent on their legitimate rights and strengthen their class unity against the capitalist onslaught." (appeal of Maruti Suzuki Workers Union, March 29, 2017) Let us Automotive Workers give support worldwide, that this act of Maruti Suzuki Company in collaboration with the fascist Modi-Government will be rejected! International Automotive Workers Coordination calls for: Organize activities of solidarity and solidarity strikes in the locations of all automobile companies! Conduct activities of protest at the Indian Embassies and/or Suzuki places of business! Freedom for the workers of Maruti! One class - one antagonist – one struggle! Collect donations to support the families of the imprisoned workers! International Days of Protest on April 4th and April 5th: Free the Maruti Workers! On behalf of International Automotive Workers Coordination Carlos Luiz Prates Mancha (Brazil), Diego Rejon Bayo (Spain) Jörn Kleffel (Germany) More about the backgrounds: www.marutisuzukiworkersunion.worldpress.com; www . icor.info ; www.industriall-union.org Solidarity messages to: This email address is being protected from spambots. You need JavaScript enabled to view it., please send copy to: This email address is being protected from spambots. You need JavaScript enabled to view it. International Automotive Workers Coordination -
International Coordinating Group
Internationale Koordinierungsgruppe
Grupo Internacional de Coordinación
Grupo Internacional de Coordenação
Groupe de coordination internationale
Email: This email address is being protected from spambots. You need JavaScript enabled to view it.; Homepage: www.iaar.de
Donation-Account: Erwin Dietrich
IBAN DE58 7001 0080 0349 3138 02 – BIC PBNKDEFF
April 02, 2017