India: May Day Zindabad! Workers of the World, Revolutionary Change The Only Way!
Details

Published: Wednesday, 30 November -0001 01:00
Hits: 129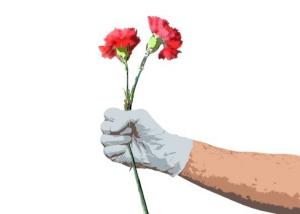 Comrade Workers Of India! This May Day, Protest Against Callous and Anti Worker Measures of Central Govt Against Pandemic! Comrades, May Day 2020 has come at a time when people all over the world are facing a pandemic of novel corona virus about a century since an earlier pandemic in 1918. Millions are ill or have died worldwide, the numbers were even worse then.
Both are a fallout of Imperialism, this time the vehicle being movement of people for global trade. Alongside people all over the world are paying the price for Capital's drive for profit, the worldwide dismantling of public health services, for the total emphasis on privatization of health services and on research for profit. In India, since 25th March the Central Govt has imposed the most stringent lockdown in the world to contain the spread of the virus. This it did after callously and carelessly allowing the virus to enter freely from overseas. This it did by closing airports very, very late for flights coming from other countries; not compulsorily restricting at airports for a necessary quarantine period people coming in from abroad, though it was clear since January end that this was the sole route by which the virus was spreading from one country to another. And since 25th of March a cruel, anti worker mode has been adopted to implement a countrywide lockdown. The massive migrant workforce of the country has been almost caged down overnight in cities of work. They are without adequate or any living space and certainly no physical distancing. They have no food, are maximally devoid of ration cards and rations, no money and no financial reserves. There have been given public assurances by central and state govts, but no concrete food or shelter. The Prime Minister addressed the country thrice but not once did he announce any form of actual support to the huge migrant and poor population, simply asking the rich to show charity to the poor. Courts are showing that they only stand with the position taken by rulers. Thus, lakhs of workers have either walked, or tried to walk, cycled, and are still walking across the country trying to go home. Over 50 have died on the way. In MNC hub Gurugram, a migrant construction worker has committed suicide. Those who have been stopped in their tracks or those who tried to remain in their bastis are facing degrading conditions. The hands which create wealth now hold them out for hours for doled out food in city after city after city; that too a single meal a day. They are unwanted both by natal govts and by govts where they work. Working class in organized industry and employees are facing compulsory wage cuts. MNCs have announced retrenchments and with the winding down of labour law machinery all govts know that wagelessness and loss of jobs will be the rule despite grand pronouncements. Indirect acknowledgement has come with Govt announcing that workers should register with authorities in whichever district they are stuck so they can be given work there. What happens to those who earlier did that work- can they possibly be paid? And a new headache of registration has been put on the heads of the working class- one more line to stand in. Workers in health sector, sanitation, primary health workers like Aasha are in the frontline of the fight against the pandemic. Denied protective gear, given pittance for risk allowances, no facilities for families, and even no proper facilities for seclusion and quarantine, they are with the people. As for Pulse polio, ASHA workers are in the community, where they are sent for health surveys along with police force as medical administrators sit in safe offices. Being mistaken for teams conducting the much-opposed NPR, they are often facing people's anger, directed actually against the police. The Central Govt has, on the one hand, tried to use even the pandemic to further its communal agenda, while continuing its attacks on democratic rights and activists. BJP-RSS govts are using the lockdown to arrest anti CAA activists, stalwarts of democratic movement, and harass minorities. On the other, it is cracking down on labour laws, bringing ordinances for Codes and plotting to enforce a 12hour workday. The money of the Country is being used to pamper corporate with measly money being allocated to help the people over the pandemic. Only 0.7% of the GDP has been allotted to finance the pandemic months. The pandemic will help the Govt of India cover up the fact that India was anyway in the grip of a serious economic crisis due to lack of purchasing power of the people. The attack on workers' rights, wages and work will only intensify in coming days. Govts are well aware and the lockdown which was to end on 30th April has been extended to cover Mayday to foil expression of the workers' voices. Working Class of India! Mark May Day 2020 as a day of Protest against the onslaught on workers, minorities and rights under cover of anti corona lockdown. Protest against the antiworker implementation of lockdown by Central and State Govts. Use this day to concretely demand
1. 10% of GDP must be Allocated for Relief to people During the Pandemic; Hike the Health Budget to 5% of GDP. Strict control on price rise. All essential goods should be subsidized by Central Govt.
2. No retrenchments, lockouts, layoff. Wages must be paid to every type of workers and arranged for all private sector workers by Central Govt. through state govts. They can be written off or recovered from owners.
3. Open the Grain Stores. Universal PDS immediately. Urgent Doorstep delivery of dry ration, lentils, cooking oil and fuel for next six months starting now.
4. All Construction workers countrywide, whether registered or not, be given not doles but the minimum wage of the state by the Construction Workers Boards from April onwards. Govt must pay both employer and employee contribution of contract and outsourced workers in units having 100 or less workers as it is doing for regular workers.
5. Universal Social Security be immediately implemented.
6. Strengthen Public Health Services. Takeover all private health facilities. Free and wide testing for of n corona virus of all people whether or not they have health insurance. Free distribution of masks to all workers by governments as this is the sole feasible prevention
7. ASHA workers, non-regular sanitation workers, etc. be paid minimum wages, ESI and PF be extended immediately to them with the Govts paying the employers' contributions. Pay Risk allowance to them; same allowance to all hospital and municipal sanitation workers should be payable via Central Govt. where no other scheme exists.
8. Workers who still want to go home, should be sent with dignity and ensuring distancing in trains and buses by govts. Students and devotees are anyway being transported. Their travel to home and also back to work should be financed by the Central Govt.
9. No changes in Labour laws. No compulsory deductions from wages of Class 3 and 4 public sector workers and government employees in the name of donations.
10. Stop communal conspiracies immediately.
11. Release all political prisoners immediately. Stop attacks on democratic rights. Stop misuse of Epidemic Act against migrants and protestors.
Comrades, hundreds have already died in our country but millions more are starving, hungry, displaced. We send our heartfelt sympathies to every worker and every working-class family which has faced death around the world and in our country. Our comrades are facing deprivation, degradation, loss of lives and loss of dignity in various parts of our country, simply because the rulers could not care less for our class. May day is a day of hope, of struggle for a new world. Mayday promises a new dawn, a dawn we ourselves will bring. Let us together salute that hope.
This will be a May Day in which so many different forms will be needed to express our anger and our demands. We call you all, innovate. No passivity; let us express ourselves in appropriate forms with appropriate precautions. Salute to our Martyrs, Together in Struggle, Forward to a New Dawn! Greetings to You All!
National Committee, Indian Federation of Trade Unions