Germany CAT: Solidarity helps to win
Details

Created: Monday, 09 October 2017 20:33
Hits: 1508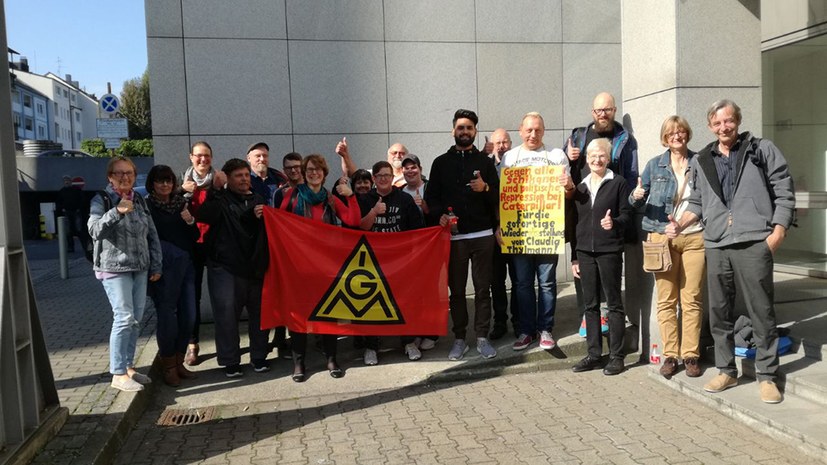 The closure of mines in the German hard coal industry also meets the colleagues in the supplier industry. They are also challenged in the struggle for every job. This challenge was accepted at Caterpillar. In this context, there are also repeated oppressive measures by the corporations against which the struggle is taken and the solidarity developed. We document a publication on a process against such a politically motivated dismissal at Caterpillar.
"Along with some supporters and their lawyer Frank Stierlin, Claudia Thylmann yesterday won her case against the politically motivated dismissal by Caterpillar.
With each new execution of the management of CAT became clear, the elimination of the workplace of Claudia is constructed.
The alleged "operating condition" of dismissal has been advanced to deprive the staff of one of their most militant colleagues. For example, it was claimed by CAT that the parts whose production had been relocated to China would no longer be checked at the goods receipt in Lünen. This is neither the reality, nor would it be permissible according to industry standard certifications.
This is a question of a political nature, as did the Managing Director, Mr Reuss. The "fixed costs" of the permanent staff are to be further reduced. He directly turned to threatening colleagues in the audience: "The economic situation is still not positive, we are facing further job cuts!"
More than 600 jobs have already been destroyed in Lünen in the last few years. Many colleagues have signed a contract with the fist in the pocket after canceling threats.
Victory in court strengthens confidence. He is the result of the broad solidarity with Claudia and the way of struggle. This was also expressed in the demonstration of the Dortmund Montagsdemo before the trial.
In addition to the Monddemonstranten, workmen and trade union colleagues, the family and friends of Claudia, representatives of MLPD, mates for AUF, Bergauf and women from the Frauenverband Courage. Tomorrow Claudia goes back to work. "